***Check August 2021 update here for latest information: Do Brits and other non-EU property hunters still need a military permit to buy in Spain?
What are the rules?
Spain has legislation in place that requires non-EU buyers to seek a special permit from the Ministry of Defence in order to buy property within areas considered strategic defence points.
It is an administrative process that requires certain paperwork including a criminal record check to take place before a purchase can be made.  
The rule applied to all foreign buyers until Spain joined the EU in 1986, when an exemption was put in place for citizens from the bloc. Citizens from Iceland, Switzerland and Norway are also exempt under a mutual agreement between their governments and Spain.
Is this a new law?
No, it was actually drafted in the last year of the Franco regime as a way to protect national security by preventing strategic places being bought up by foreigners. The law came into effect under Royal Decree 689 published in 1978 and exists to this day.
Why are we hearing about it now?
Although this is a legal requirement that has been in place for more than four decades for those buyers who hail from outside the European Union, it has suddenly become big news as a result of Brexit stripping Brits of their EU status.
In some areas of Spain, British buyers make up the largest proportion of foreign investors but the process has been made harder now that their status has changed from members of EU to third country nationals.  
While it was always clear that Brits who are non-resident in Spain would be subject to the 90 day rule once the withdrawal period ends, a rule that may make many rethink purchasing a holiday home, this latest development has thrown another spanner in the works.
Last week the British government updated advice for Brits buying in Spain to include information on legal requirements when buying property close to military bases in Spain.
This is what they say on the matter: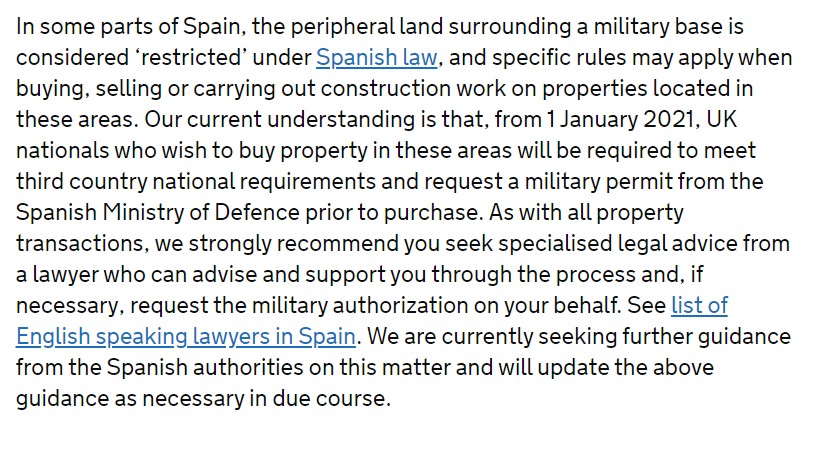 What are the zones that need special permission?
It isn't just zones around the edge of military installations that fall under the requirement for special permission.
In total, the law impacts about 1,560 municipalities across Spain as it also applies to urban areas close to the Strait of Gibraltar, the Bay of Cádiz, the Galician coast and Spain's borders with France and Portugal as well as all the Balearic Islands and the Canary Islands.
It also affects much of the region of Murcia and the Alicante province, especially towns along the southern Costa Blanca because of their proximity to the Cartagena naval base.
The restrictions may not apply if the property can be classified as within "núcleos urbanos consolidados" – established built up areas but is likely to required for most rural areas within the designated  strategic zones.
The map below shows the zones in mainland Spain that are classified as being of "military strategic importance". All of Spain's islands plus the North African city enclaves of Ceuta and Melilla are also included.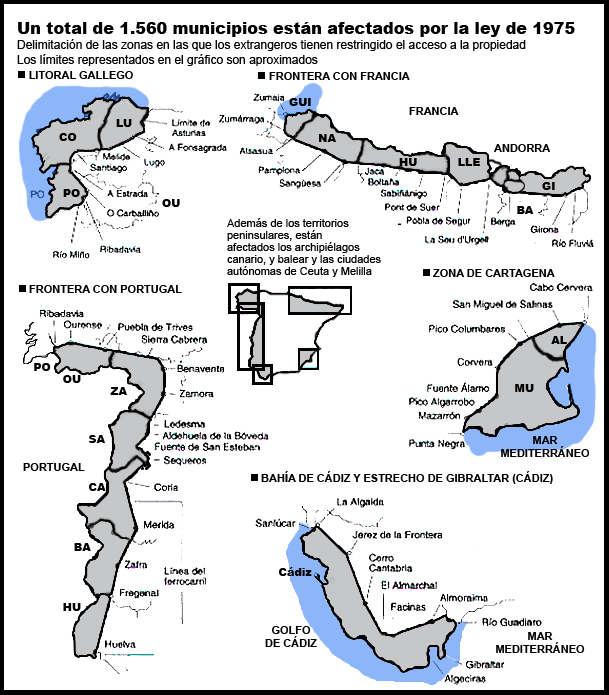 Map produced by Tradusan.com
What are people saying about it?
Across Spain estate agent associations are sounding alarm bells over the legislation fearing it will further deter British buyers.
The President of the Association of Real Estate Developers of the Balearics (Proinba) Lluís Martí says there's deep concern in the Balearic Real Estate Sector.
"This law will limit the number of Britons looking to buy a second home in Mallorca, Menorca, Ibiza or Formentera," he told Ultima Hora, a newspaper on the Balearic Islands.
"These obstacles will definitely limit real estate investment in the Islands, which doesn't help in the current climate," he said.
A group of realtors in the Alicante region have long been lobbying for a revision of the law because it put off foreign buyers such as Russians who were keen to invest in the area. But now with Brexit, it brings a new deterrent to Brits who make up the highest percentage of foreign buyers in the area.
"Eighty percent of foreign purchases are made by British citizens (in the south of Alicante)," Jesualdo Ros from the Association of Real Estate Developers of the Province of Alicante (Provia) told El Pais, highlighting Torrevieja, Orihuela Costa, San Miguel de Salinas and Pilar de la Horadada, which all fall within the military zone.
"This means around 800 buyers a year will be affected."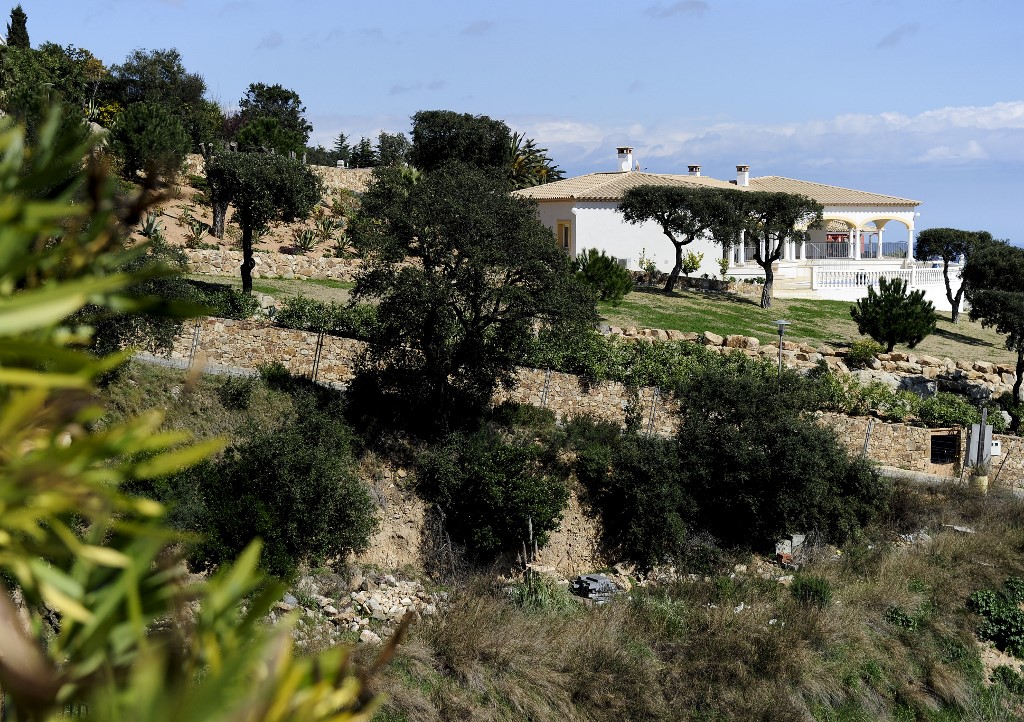 What is the process for getting a permit?
Besides all the usual administrative formalities required when buying in Spain, foreign buyers of property within designated sensitive zoneswill have to apply for a permit from the Ministry of Defence.
To do this they will need to provide a Criminal Record Certificate from country of residence, accompanied by a sworn translation and stamped by a notary as well as detailed plans of the property itself.
The application takes a minimum of two to four months and up to six months but could be delayed further if there is backlog due to sudden surge in applications.
In recent years an average of 150 applications are received annually but this could soar with Brits now needing to apply too.
This means the buying process could be drawn out by months as without relevant permission notaries will not be able to transfer title deeds.
Applications will need to be made with the help of a property registrar or notary. 
What about Brits who bought a house before December 31st 2020?
There is no retrospective application of the law which means if a property was registered in the name of a British buyer before the end of the Withdrawal Agreement then no special permission is needed.
However if you started the process of a house purchase on a property that falls within designated zone but haven't you yet completed, you will need to check whether a permit is required. 
READ MORE: