Do tourists and visitors in Spain have to quarantine if they have Covid-19 symptoms?
Not anymore, in the majority of cases. 
Since March 28th 2022, people in Spain who test positive for Covid-19 but are asymptomatic or have mild symptoms are no longer required to quarantine for seven days as was previously the case. 
Spain's Health Ministry now recommends (rather than require) that people with Covid-19 who have mild or no symptoms stay at home and rest, that if they do have to go out they wear a mask indoors and outdoors, and that they keep social contact to a minimum for a week.
But they no longer have to self-isolate at their accommodation or at designated quarantine hotels as was previously the case during the height of the pandemic in Spain. 
National tourists on holiday in another region of Spain are no longer required to head back home if they have Covid-19 either. 
However, seven-day quarantines remain mandatory for serious cases and those classified as part of the high-risk or vulnerable population, which includes those over 60 years of age, immunosuppressed people and pregnant women. 
Close contacts of positive cases don't have to self-isolate either but should follow the same new recommendations of avoiding social contacts and sticking to mask wearing that apply to positive cases.
Do tourists have to get tested if they have Covid-19 symptoms and contact Spanish health authorities if they test positive?
Not necessarily. Spanish health authorities have also decided that it's no longer necessary for people with mild symptoms that could be related to Covid-19 to get tested to confirm their infection.
Previously visitors had to contact the health authorities of the region where they were staying if they tested positive for Covid-19 via an antigen or PCR test, but in late March 2022 Spain's Health Ministry decided it would stop counting each and every Covid case. 
Again, tourists in the high-risk category (those with pre-existing respiratory conditions, over-60s, immunosuppressed people and pregnant women) will still have to get tested and should contact Spanish health authorities if they test positive.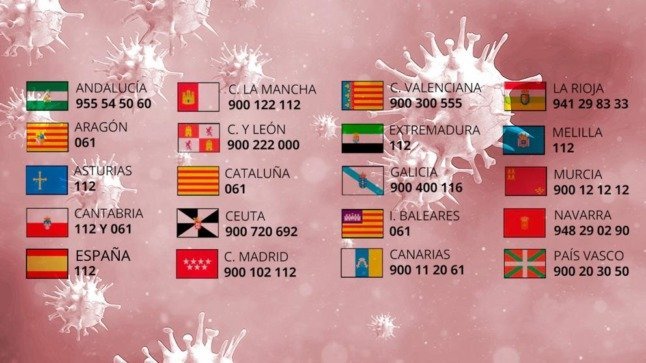 The Covid-19 helplines in Spain's different regions.
Can tourists fly back if they suspect they have Covid-19 or test positive?
No. All international airlines flying to and from Spain will still not let passengers who have tested positive for Covid-19 board planes. 
Even though in many cases vaccinated or recovered tourists will not be asked to provide proof of a Covid test before boarding their flights (depending on the rules of the country to which they're flying to), there are still some checks being carried out at airports that could mean those suspected of having Covid-19 are not allowed to board without first getting tested.
This means that many foreign visitors will have to extend their visit in Spain at their own cost until they are no longer infected with Covid-19. 
Several Spanish regions offered free Covid insurance to tourists in 2021 (which covered medical and hospitalisation expenses, transportation and repatriation costs) but this no longer appears to be the case in 2022. 
If you're an EU citizen, make sure to bring your EHIC (European Health Insurance Card). Non-EU tourists should make sure they take out comprehensive travel insurance that covers Covid-19. 
READ ALSO: What are Spain's specific mask rules for travel?
Keep in mind that if you have Covid-19 symptoms when you're due to fly to Spain, you should get tested to confirm if you're infected and not board your flight if you test positive.
Tourists arriving by air from non-EU/Schengen Area countries still have to complete Spain's health control form beforehand, which requires them to sign an affidavit confirming they don't have Covid symptoms.
In terms of when tourists can fly back after becoming infected with Covid-19 in Spain, the Spanish government no longer states that it has a mandatory seven-day wait and four days of close monitoring. Getting a negative result on an antigen or PCR test is therefore the best way to know when it's suitable to travel back.
This may also be determined by the Covid travel rules in the country in which you live, which may ask you to confirm that you are no longer positive for Covid-19 before flying. 
READ ALSO: Spain sets price limit of €2.94 for an antigen test