The harshest cold spell in Spain in years has coincided with a steep rise in electricity bills for Spanish households and businesses, putting extra pressure on everyone who's suffering the financial consequences of the coronavirus crisis.
According to Spanish consumer group Facua, the price of electricity has increased by 27 percent so far in 2021, which represents a cost of 16.8 cents per kilowatt hour (kWh) for consumers with a regulated rate (PVPC).
This means that the average Spanish household will pay 19.3 percent more in their monthly electricity bill until the rates change. It's a common occurrence every winter in Spain, with the increased energy demand and the drop in renewables playing a part in this seasonal rise.
Fortunately, this added cost can be cushioned thanks to a benefit the Spanish government offers to help those who need it most to make ends meet.
What is the Bono Social de Electricidad?
It's a social energy tariff which allows individuals and businesses to apply for a discount of up to 50 percent on the PVPC tariff of their electricity bills.
The PVPC is the Voluntary Small Consumer Price, the system that the Spanish government has to establish an hourly rate for electricity.
Therefore, in order to access this discounted rate, it is essential to have a PVPC electricity rate contracted with your electricity company with a power supply equal to or less than 10 kW.
Who can apply for the Bono Social de Electricidad?
Spain's social energy tariff is meant for those who need it most, referred to as vulnerable consumers.
To be eligible an applicant has to be either a low earner, unemployed, temporarily unemployed (ERTE) or a business owner whose company has seen earnings drop significantly as a result of having to reduce working hours.
As a result of the coronavirus crisis, the Spanish government has added self-employed people who have had to stop working or who have seen their earnings drop by 75 percent.
What are the requirements?
In order to be classified as a vulnerable consumer, you have to prove the following:
That your annual income does not exceed by 1.5 times the IPREM, Spain's social index for deciding who qualifies for benefits. In 2021, this sum is €564.90 per month.
In order to qualify as an individual, your annual earnings have to be below €11,862 as the government takes into account 14 monthly wage payments.
For families with one child, annual earnings must be below €15,817.
For families with two children, the limit is set at €19,771.

These IPREM thresholds will be increased 0.5 times if any of the following circumstances occur:

A family member has a recognized disability equal to or greater than 33 percent
The applicant is a victim of gender violence or terrorism
A family member has a recognized dependency level of grade 2 or 3
The family unit is made up of a single parent, mother or father, with at least one minor in their care.
Holders of large family status, without any other conditions
The applicant and all other family members are minimum sum pensioners on Spain's Social Security System either due to retirement or permanent disability, and do not receive any other type of income.
If an applicant meets any of the above requirements and their family unit has an annual income lower than or equal to 50 percent of the IPREM thresholds, they'll be considered a severely vulnerable consumer.
If in addition, the consumer is being cared for by social services, they will be considered a consumer at risk of social exclusion and will be covered by the 'last resort' rate (TUR) which provides them an essential electricity supply.
What benefits does the Bono Social de Electricidad bring?
Firstly, it offers significant discounts to applicants' electricity bills.
A 25 percent monthly discount for vulnerable consumers (unemployed, workers on an ERTE, business owners and self-employed people with large losses).
A 40 percent discount for those classified as severely vulnerable consumers
A 50 percent discount for consumers at risk of social exclusion
It will also allow them to have clearer electricity bills without the small print, or extra costs from products or services added on.
They also have more time to deal with unpaid bills than the rest of the consumers (4 months from the first notification of non-payment, compared to the general limit of 2 months).
If there is at least one child under 16 years of age in the family unit, or the consumer or one of their family members has a disability equal to or greater than 33 percent or with level 2 or 3 dependency level, their household's electricity supply can't be interrupted in the event of non-payment.
How do you apply?
To request Spain's social energy tariff, you first have to contact your electricity company.
The following are some of the contact numbers provided by the government.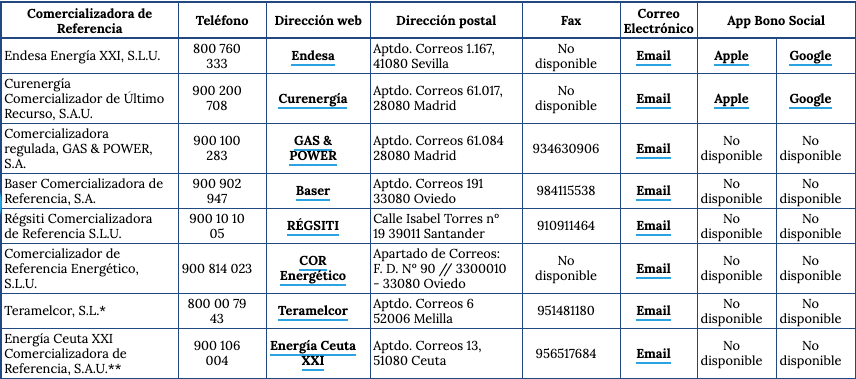 They'll ask you to provide the application form, including the list of people who are part of your family unit (a quick search online with the word "formulario" and your company's name should lead you to this).
In addition, you must prove that you meet the requirements to be considered a vulnerable consumer, always following the instructions provided by your electricity company.
As mentioned earlier, you'll need to have contracted the PVPC rate with your company, which means your electrical installation has to be low voltage, with power equal to or less than 10kW and include a digital meter.
You'll also have to provide your name, DNI or NIE, your CUPS Code, (a unique identification code of your electricity supply which is found on your contract or bills), bank details, power contracted and potentially other information relating to your supply.
The following are some useful contact details for Spain's main electricity companies:
Endesa PVPC phone number: 800 760 333
Endesa PVPC email: [email protected]
To get the PVPC rate and the bono social with Iberdrola:
Iberdrola's contact to request the PVPC electricity rate is the following:
Iberdrola PVPC phone number: 900 200 708
Iberdrola email: [email protected]
Repsol's contact number to request the PVPC electricity rate (no email available): 900 101 005.