Spain's Directorate of Traffic (DGT) will roll out a new B1 driving licence which will allow 16 and 17 year olds to drive vehicles on Spanish roads, Interior Minister Fernando Grande-Marlaska has confirmed. 
Currently, it is only possible for teenagers who haven't turned 18 to drive 125cc mopeds at up to 45km/h on a Spanish A1 licence (+16 years), or even lighter and less powerful quadricycles on an AM licence (+15 years). 
B2 driving licences, which are needed to drive cars, remain only available to over-18s.
The vehicles over-16s in Spain will soon be allowed to drive must be electric, have a top speed of 90 kilometres per hour, weigh a maximum of 400 kilos (without the battery) and not surpass 15 kW of power (20 horsepower).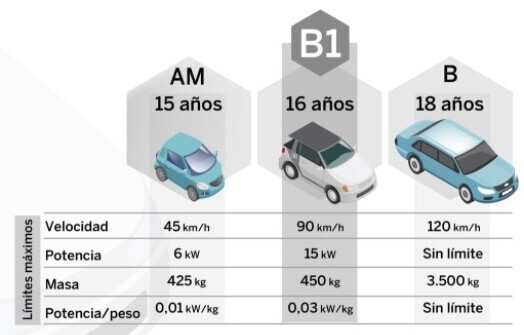 A breakdown of the new vehicle specifications and rules for Spain's different driving licences. Source: Seguridad Vial Pons
Although the DGT is yet to give examples of these types of vehicles, the two-seater Renault Twizy, which is a mix between a moped and a small city car, is being showcased in the Spanish press as the type of light electric vehicle teens can now drive in Spain.  
Other micro electric car models that fall within Spain's L7e vehicle category are the Citroën Ami, the City Transformer CT1 or the Opel Rocks-e.
There are other details which also still need to be confirmed, such as whether teenage drivers will be allowed on all roads.
It is expected that they will have to sit a theory exam similar to that that most B2 learners take.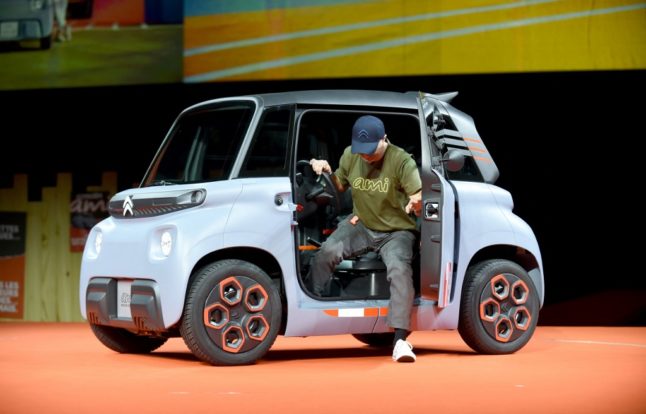 The Citroën Ami on display at its launch presentation in 2020. (Photo by ERIC PIERMONT / AFP)
"This is already being applied in countries like France (Portugal and Italy) with good results and it will favour the mobility of young people in rural areas, where even with all possible efforts, public transport obviously isn't as available as in more urban areas," the Interior Minister stated.
The change in legislation is part of EU efforts to adapt driving laws to current needs and the promotion of electric mobility from a young age.
According to Spain's National Statistics Institute, around 1 million 16 and 17 year olds will be able to benefit from this measure. 
The new B1 licence law is likely to come into force in 2023.