Spain's sherry triangle sits in the southwest of the country in the province of Cádiz and lies between the cities and towns of Jerez de la Frontera, Sanlúcar de Barrameda, and El Puerto de Santa María.
It's a Protected Designation of Origin (DOP) region, meaning that only the white fortified wine grown and made here can be called sherry.
Sherry is predominantly made from the white palamino grapes and the region's chalky albariza soil full of limestone, it's hot summers, mild winters and high humidity make it perfect to cultivate them.
Jerez de la Frontera is the capital of this wine region and its streets are lined with sherry tabancos fronted by old sherry barrels and locals sipping glasses of fino.
However, sherry wouldn't be the celebrated sherry drink it is today in this part of Spain without the legacy set up by the British and the Irish some 250 years ago.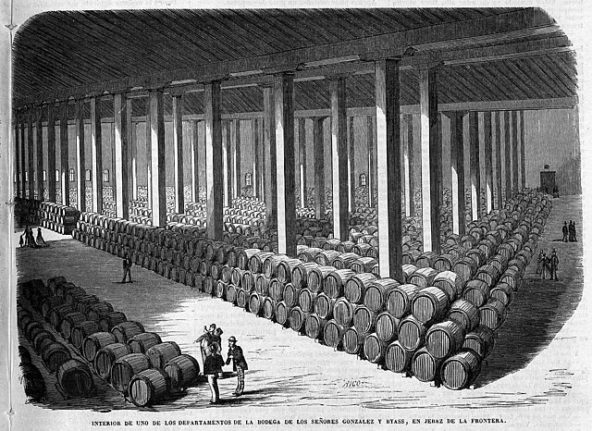 1865 drawing of sherry barrels stacked up inside the González and Byass winery, in Jerez de la Frontera ". Image: The Universal Museum/Public Domain
In Jerez, you'll see signs hidden signs of the British everywhere, from the sherry posters, the names on the walls of the cellars, to the labels on the bottles and even the names of some of the types of sherry such as cream and pale cream.
Wine has been produced in the southwest of Spain since Roman times, but it wasn't until later that sherry was produced. It was first imported to the UK in the 13th and 14th centuries and become known by the English name sherry, instead of the Spanish name – jerez.
Sherry sales saw growth in the UK after the marriage of Catherine of Aragon with King Henry VIII.
It is said that she often complained saying: "The King, my husband, keeps the best wines from the Canary Islands and Jerez for himself".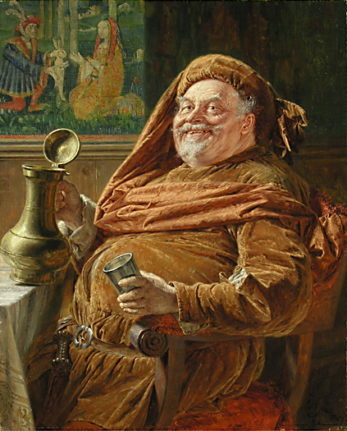 Shakespeare's Falstaff and his affection for Sherry "sack" also did much to spread the reputation of the drink. Painting´: Eduard von Grützner
From 1587 onwards, sherry became particularly popular in Great Britain, when Sir Francis Drake supplied taverns around the country with several thousand sherry casks he brought back when he captured the port of Cádiz.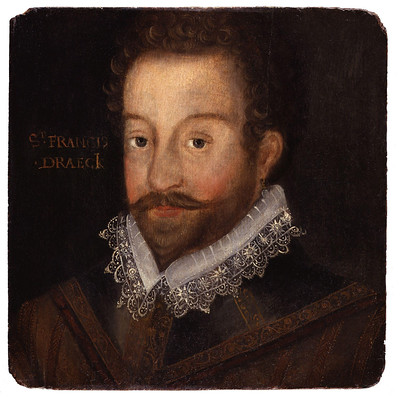 Sir Frances Drake brought sherry back from Cádiz. Photo: Ann Longmore-Etheridge / Flickr
But it wasn't until the 1700s that British merchants actually started investing in the sherry trade and opening up their own bodegas in Spain.
One of these was Scot James Duff, whose sherry business was developed by his nephew William Gordon and then taken over by their friend Thomas Osborne. Their business became the well-known sherry brand Duff-Gordon, which was later renamed, Osborne.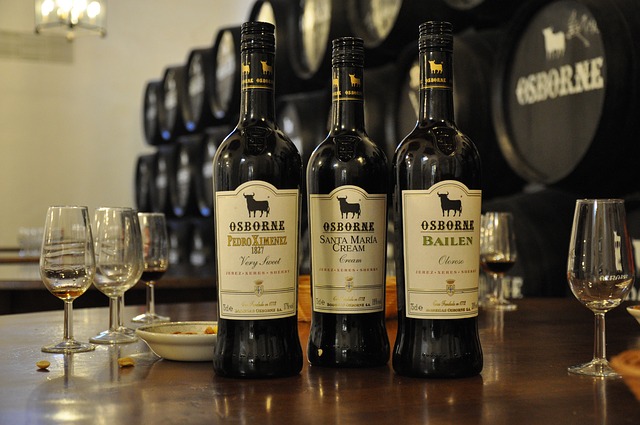 Osborne sherry has become famous around the world due its iconic logo of a Spanish bull, seen on bull-shaped billboards across Spain. Photo: Volker Schoen / Pixabay
Today, they are one of the biggest sherry producers in Spain and the Bodegas de Mora Osborne are one of the most famous in El Puerto de Santa María, which can be visited on a tour.
Another was William Garvey, a rich Irish farmer. It is said that he came to Cádiz to buy merino sheep, but instead ended up establishing himself as a wine merchant, first in Sanlúcar and later in Jerez. In 1824 his son Patrick took over the company and set up the Bodegas San Patricio. Today, these bodegas, located in Jerez de la Frontera are some of the biggest in the region.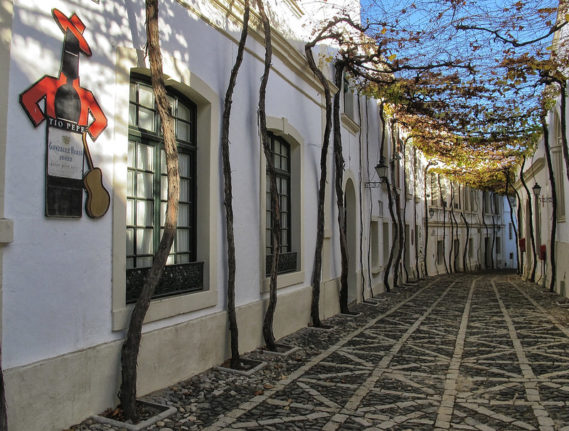 The Tío Pepe wine factory in Cádiz. The famous sherry producers also have British links, as their holding company – González Byass – carries the name of Robert Blake Byass, a renowned English wine merchant. Photo: María Renée Batlle Castillo/Flickr
More and more British followed suit with Sir Alexander Williams and Arthur Humbert creating their own bodegas in 1877 and Spaniard Manuel María González partnering with Englishman Robert Blake Byass in 1835 to create one of the most well-known sherry bodegas today – González Byass.
Today, even though most of the sherry producers are Spanish, many can trace their family origins back to the British, from Sandeman and Harveys to Terry.
So next time you're sipping a manzanilla or fino sherry in a tabanco in Jerez, you might want to raise a glass to the British and Irish ancestors who made it possible.