For members
ANALYSIS: How bad is Spain's fourth coronavirus wave?
Even though almost all of Spain has infection rates in the high or very high risk categories, epidemiologists believe the fourth Covid wave the country is currently enduring won't be as severe as previous ones.
Published: 26 April 2021 13:03 CEST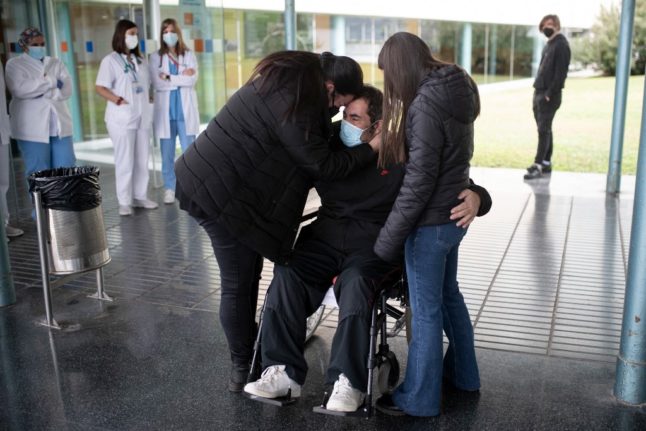 Healthcare workers accompany Carlos, 52, sick from Covid-19, as he meets his wife and daughter for the first time after his admission three months ago and one week after leaving the Intensive Care Unit (ICU) at the Hospital Del Mar in Barcelona, on January 25, 2021. Josep LAGO / AFP
Spain rules out EU's advice on compulsory Covid-19 vaccination 
Spain's Health Ministry said Thursday there will be no mandatory vaccination in the country following the European Commission's advice to Member States to "think about it" and Germany's announcement that it will make vaccines compulsory in February.
Published: 3 December 2021 09:30 CET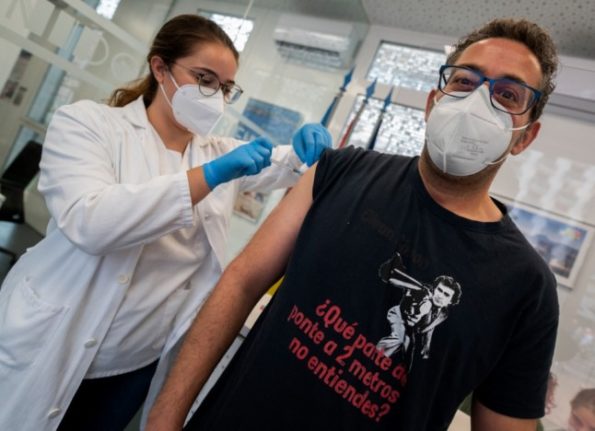 A Spanish man being vaccinated poses with a custom-made T-shirt showing Spain's chief epidimiologist Fernando Simón striking a 'Dirty Harry/Clint Eastwood' pose over the words "What part of keep a two-metre distance don't you understand?' Photo: José Jordan