Last weekend Spain's tourism minister, Reyes Maroto, sounded hopeful: "If the health security conditions are met, Easter could see a restart of national travel," she said in an interview with Onda Cero admitting that attracting foreign visitors was still a long way off.
But how likely is this?
The latest health ministry data appears to show that the third wave has reached its peak and the infection rate is now dropping.
On Monday 1st February, Spain's national average 14-day cumulative number of coronavirus cases per 100,000 inhabitants dropped to 866 – down 25 compared to a week ago.
Fernando Simón, the director of the Centre for the Coordination of Health Emergencies said the data was moving in the right direction but warned that it was still "incredibly high".
"It is starting to fall. And this is good, but we need for it to happen fast so that the activity in hospitals does not have to be reorganised," he explained.
But he warned that the infection rate would have to drop below 150 cases per 100,000 on average across Spain before normal holiday practices could be considered.
When asked to respond to the Tourism Minister's optimism about Easter, Simón was vague."I don't know when Easter is, so I don't know what margin we have," he said.
Easter Sunday falls on April 4th this year which means Semana Santa gets underway in less than two calendar months.
Without explicitly ruling it out Simón said: "we have to be clear that a good situation for travelling is not that we go down from 800 cases to 500".
Simón explained that the "evolution" in terms of numbers of cases was now good but that acceptable evolution cannot be confused with an acceptable situation, which will be "when we have incidence of 50, 100 or 150 cases per 100,000 in fourteen days."
To consider whether this might be possible let's examine the data from the second wave.  Infections peaked around November 9th when the IA over 14 days reached 529 cases per 100,000 people on average across Spain.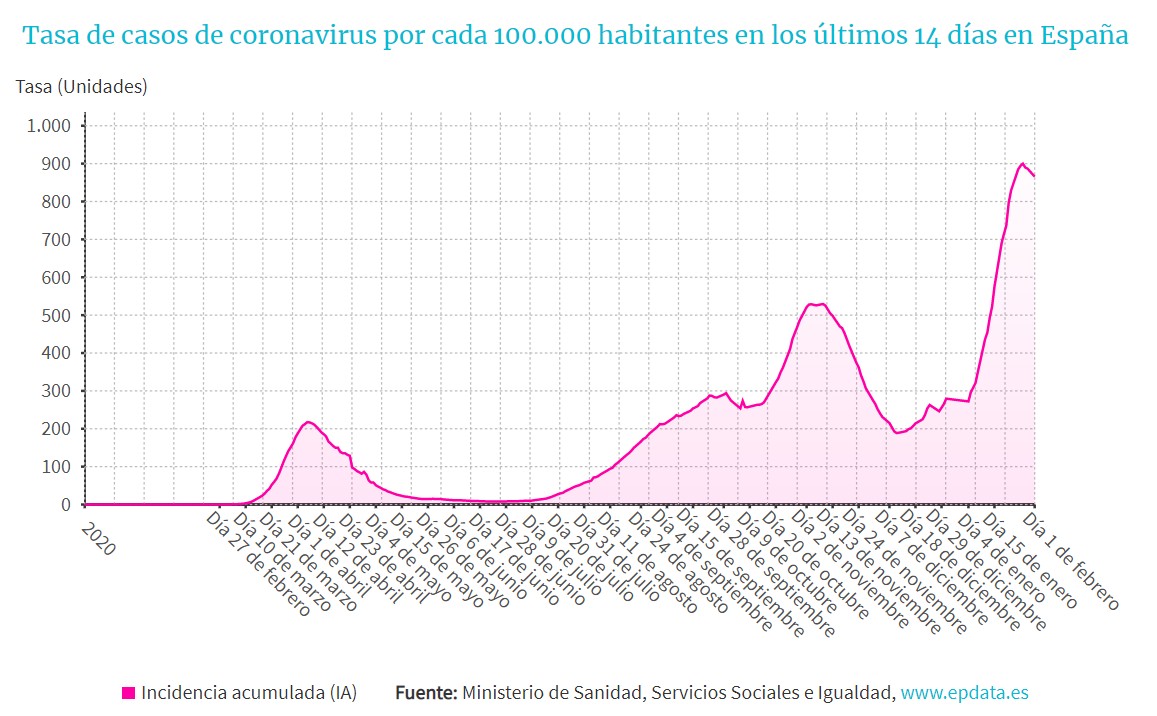 During this time travel was banned and regional authorities imposed measures to reduce socialising and closed-off borders to prevent the usual dispersion over the long bank holiday in early December.
This saw the numbers brought under control and a month later on December 10th the infection rate had dropped from its peak to 189 cases per 100,000 people.
Then Christmas came and with it a relaxation of rules that allowed travel between communities in order to see family.
The numbers then climbing again to reach a peak of 899 cases per 100,000 on January 27th.
That's an average across Spain. Monday's data revealed infection rate was still over 1,000 cases per 100,000 people in the regions of Valencia, Murcia, Extremadura, La Rioja, Castilla La Mancha and Castilla y León.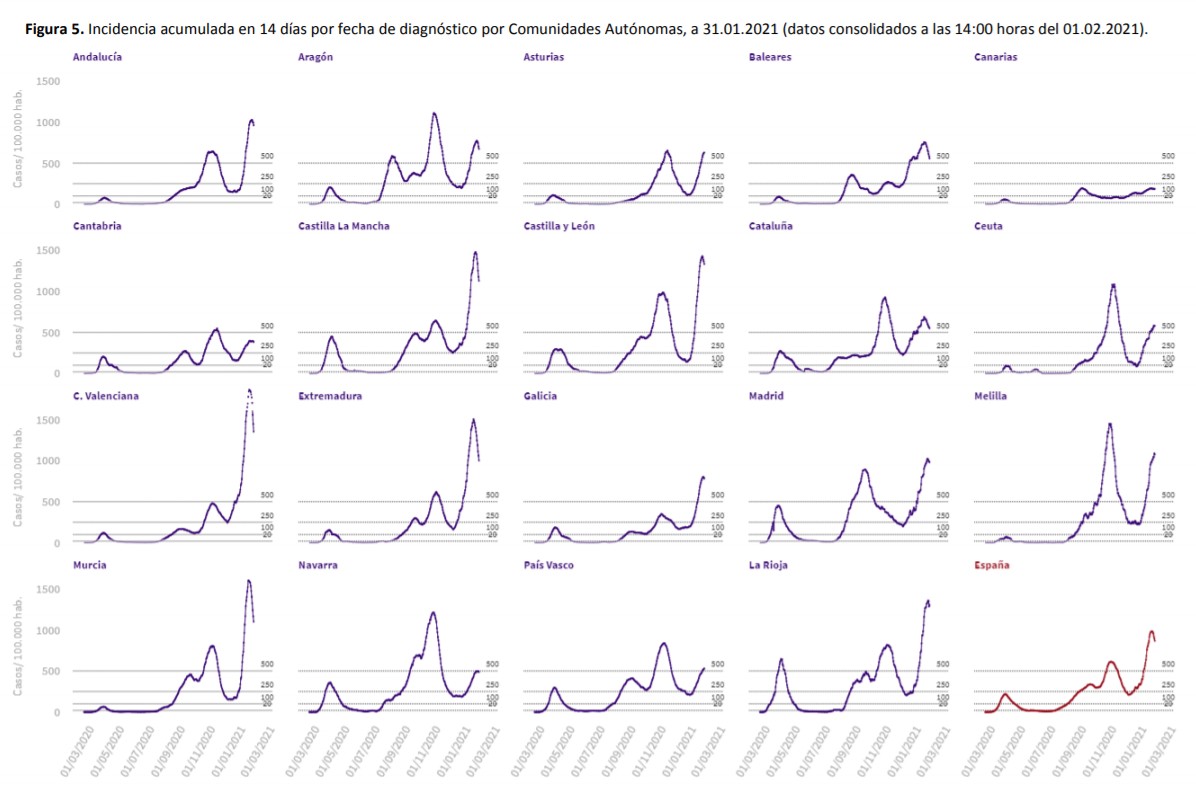 Charts showing the cumulative incident rate per 100,000 cases over 14 days per region. And for Spain in bottom left corner. Source: Ministry of Health February 1st.
Most regions in Spain have closed their borders and those with the highest infections rates have closed restaurants and bars and limited social interaction, with Valencia and Murcia currently banning social mixing between household entirely.
So there is a long way to go to bring the infection rates down before regional powers will consider opening up to visitors.
What does seem certain is that authorities will cancel those Easter parades involving crowds of people lining the streets to watch penitents squeezed below a platform bearing the weight of a religious icon will once again be cancelled.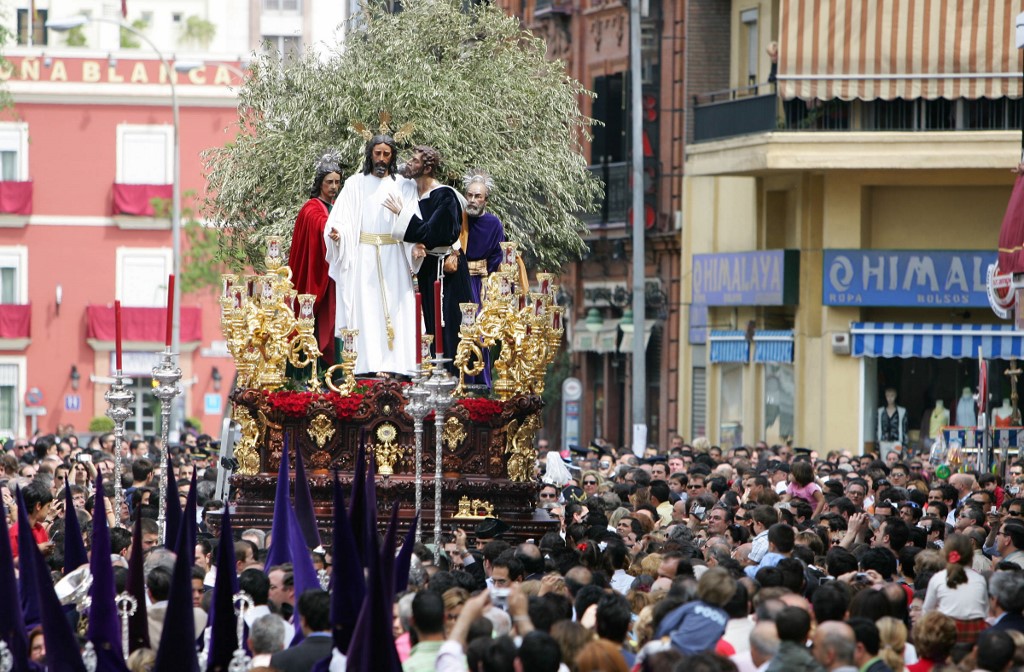 READ MORE: