Madrid health authorities have announced that they are suspending vaccination against COVID-19 for a period of at least two weeks.
According to Madrid's deputy regional president Ignacio Aguado, the measure has to be taken because the region is running low on doses.
This means that the few doses it does have will be reserved as a second jab to give to patients who have already received the first dose.
But no new people will be called up for a first vaccination until at least the second week in February, even those who fall into the top priority group.
"Unfortunately, as we suspected the pace of deliveries was interrupted," Aguado told a press conference on Wednesday.
In a tweet, Aguado highlighted that new vaccinations would be suspended for "at least the next two weeks" and urged Spain's health ministry to "move heaven and earth" to procure more doses.
He warned that, at the current pace of vaccination, only 10 percent of the population of the Madrid region will be inoculated by the end of July, short of the target of 70 percent set by Spain's national government and by the EU.
Hemos tenido que suspender el suministro de nuevas primeras dosis, al menos, durante las dos próximas semanas por falta de vacunas.

Le pido a la ministra Darias que mueva tierra, mar y aire para conseguir más. A este ritmo, en julio solo el 10% de los madrileños estará vacunado. pic.twitter.com/gDh7R2vSxw

— Ignacio Aguado (@ignacioaguado) January 27, 2021
Spain is still in its first phase of vaccination programme which gives priority to care-home residents and front-line medics, and just over 1.3 million doses have already been administered across Spain.
Some 10 percent of those in the priority group have already received a second jab, according to Health Ministry data.
The Madrid region has so far vaccinated 180,000 people since the campaign started at the end of December with the first dose already administered to 94 percent of those in care homes and 79 percent of Madrid public healthcare professionals.
In addition 10,706 workers in private healthcare have also received their first jab.
But Madrid said that in addition to delaying those who belonged to the first group but have not yet received the first dose it will also delay opening up the vaccination to the next priority group; those over 80 years old who live in private homes.
Catalonia has said it is also suffering shortages of the vaccines and that they would prioritize second doses to ensure people who had already received their first dose acheived full immunity before the time limtit expired.
Attitudes to vaccination have been changing fast with the latest poll suggesting that Spaniards are much more willing to get the Covid-19 vaccine  now than they were in October of last year.
A survey by the Spanish Science Ministry reveals that 58.1 percent feel "completely certain" that they would get vaccinated tomorrow if they could compared to 20.2 percent back in October.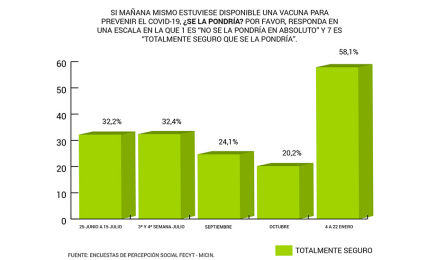 On the other side just 8.7 percent of respondents insisted they would "never get the vaccine" a huge drop from the 32.5percent who felt the same way three months ago.
READ MORE: