One of the main new rules which will come into force on Monday is that no one will be able to meet inside each other's homes, with the main exceptions being couples and single people who live on their own.
"Only people who live alone, who may be part of a single extended coexistence unit" may meet inside homes, the decree states.
To clarify, the decree also adds "Each unit of coexistence can integrate only one single person who lives alone too".
? Nuevas medidas frente al COVID-19:

? Restricción de movilidad nocturna de 22:00h a 06:00h.

? Cierre de establecimientos a las 21:00h.

? Prohibidas las reuniones de no convivientes en domicilio, salvo por cuidados.

? 4 personas por mesa en hostelería y restauración. pic.twitter.com/zwebiUPq0g

— Comunidad de Madrid (@ComunidadMadrid) January 22, 2021
It also says that the new rule does not apply to those couples who are in a relationship or are married and are not living together.
Others exempt from the new restriction of no meetings in the home include care assistants, those who accompany minors, the elderly, the sick, dependents and those with disabilities.
"Meetings of minors with their parents or legal guardians" are also allowed to meet inside homes, which could happen if the parents are divorced for example.
Another new rule for Madrid starting from Monday January 25th is that all establishments, venues and premises open to the public will have a legally authorised closing time and none will be allowed to stay open past 9pm.
The only exceptions will be pharmacies, health centres, veterinary clinics, food delivery services and petrol stations.
This new closing time does not apply to facilities that are not open to the public.
In restaurants and cafes, only a maximum of four per table will be allowed and leisure centres and shopping malls will have a reduced capacity of 50 percent.  
Madrid authorities also added to the number of healthcare zones with perimetral confinements across Madrid bringing the total to 56. 
To check which zones are restricted click on the interactive map below: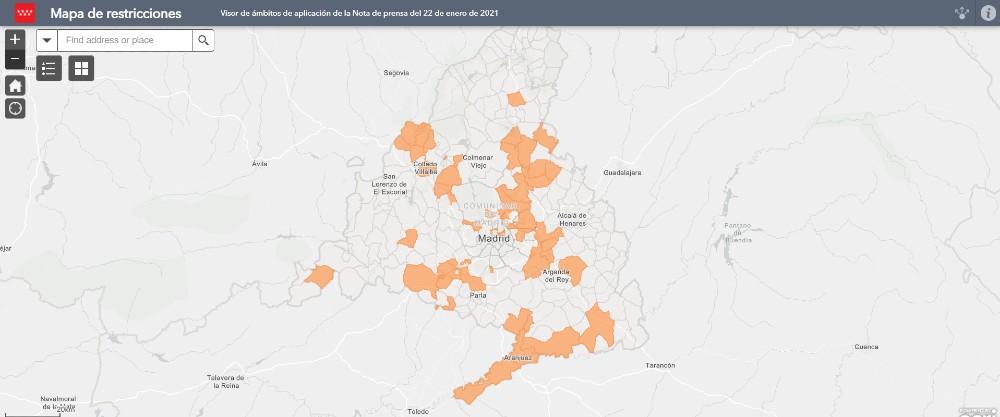 READ ALSO: LATEST: These are updated Covid-19 rules for regions across Spain