The latest figures brought the cumulative total of coronavirus cases in Spain to 2,456,675, while the official death toll increased by 404 to 55,041.
The nationwide incidence of the virus as measured over the past 14 days climbed to a new high of 796 cases per 100,000 people on Thursday from 736 cases the previous day.
Speaking at a press conference to announce the daily figures, Fernando Simón, the director of the Health Ministry's Coordination Center for Health Alerts (CCAES), admitted that the data was bad, but said there were reasons for optimism and that the third wave may now be reaching its peak.
"The increases that we are observing are smaller every day, which implies that we are already at the inflection point," explained Simón.
This" phase ", the epidemiologist added," could mark a clear turning point in the trend".
But he warned that pressure on hospitals would likely continue into at least the next week.
The regions where the most new infections were reported are Valencia (8,452), Andalucía (7,549), Madrid (7,097) and Cataluña (5.917).
The cumulative incidence rate of 14 days increased in every one of Spain's 17 regions and now appears over 1,000 cases per 100,000 people in six regions.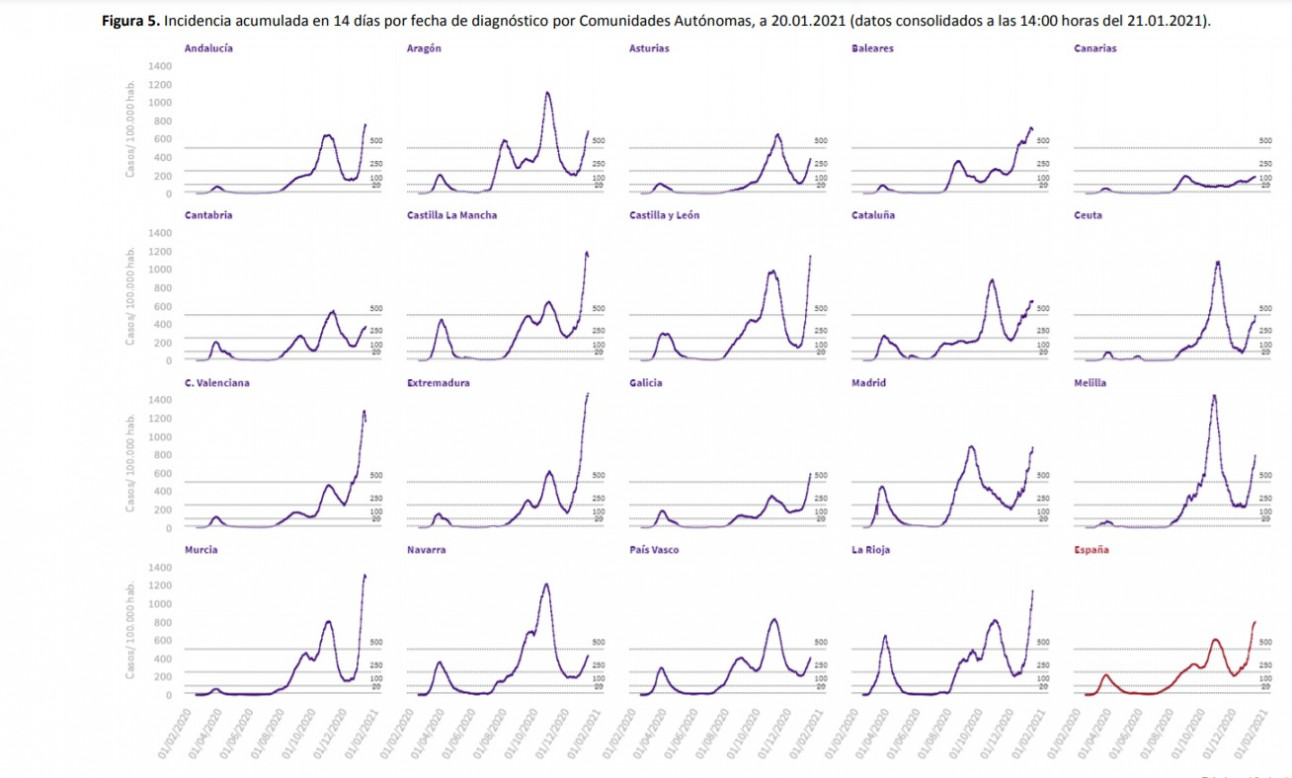 The charts above show the cumulative incidence rate across each of Spain's regions. Source: Spain's Ministry of Health Jan 21 2021
The highest rates are now seen in; Extremadura (1,467.5), Murcia (1,286.9), Comunidad Valenciana (1,166.2), Castilla y León (1,142.3), Castilla-La Mancha (1,140.6) and La Rioja (1,134.8).
The charts below show the evolution of coronavirus in Spain since July, recording infections, hospitalizations, ICU occupancy and deaths.
READ ALSO: