All bars and restaurants will be forced to shut down entirely unless they offer take-away service, while hotel restaurants will be able to serve hotel guests only.
In addition, all non-essential businesses must close by 6pm although supermarkets and pharmacies can remain open until later. Gyms and sporting installations have also been ordered to close, however, schools and universities will continue with classes on site.
Regional president Ximo Puig announced the new rules on Tuesday and said they would come into force from Thursday morning for at least two weeks.
He said that 29 munipalities across the region would have perimetre confinements in place to prevent people coming in an out except for those with justified cause such as work, study or to visit vulnerable dependents. 
The region has already closed its borders until at least January 31st.
? Medidas #COVID19 a partir del 21 de enero

? Cierre hostelería
?️ Cierre comercios a las 18 h
⚽ Cierre instalaciones deportivas
? Circulación hasta las 22 h (solicitud de avance a las 20 h)
? Confinamiento perimetral
? 6 personas

?️ Hasta el 31 de enero pic.twitter.com/I4y89UtiYT

— Generalitat (@generalitat) January 19, 2021
The announcement came as the latest data revealed that infections had shot up across the eastern region and that more than 50 percent of hospital ICU beds were occupied by coronavirus patients.
Between Monday January 11th and Sunday January 17th, health authorities in the region registered 36,065 new cases (20,510 in the province of Valencia, 11,812 in Alicante and 3,703 in Castellón), representing an increase of 63.16 percent compared to the previous week.
It now has a cumulative incidence rate of 896.12 cases per 100,000 people over the past 14 days, far above Spain's nationwide average of 689.27.
A total of 316 people died last week due to covid (187 in Valencia, 94 in Alicante and 35 in Castellón), which is 60 more than the previous week, an increase of 23.43 percent, and a figure equivalent to the total of death toll during September and October combined. Monday saw a new record of deaths in one day when 95 were registered.
"The virus is killing more than ever and spreading in an extraordinary way, so that calls for extraordinary measures," Puig said in a televised address on Tuesday.
"We have a few terrible weeks left ahead of us and now is not the time to lower our guard and relax," he warned. "We must avoid social contact as much as possible."
To examine the epidemological situation for each municipalitiy as well as discovering which zones are confined, use the interactive map provided by Valencia's Generalitat.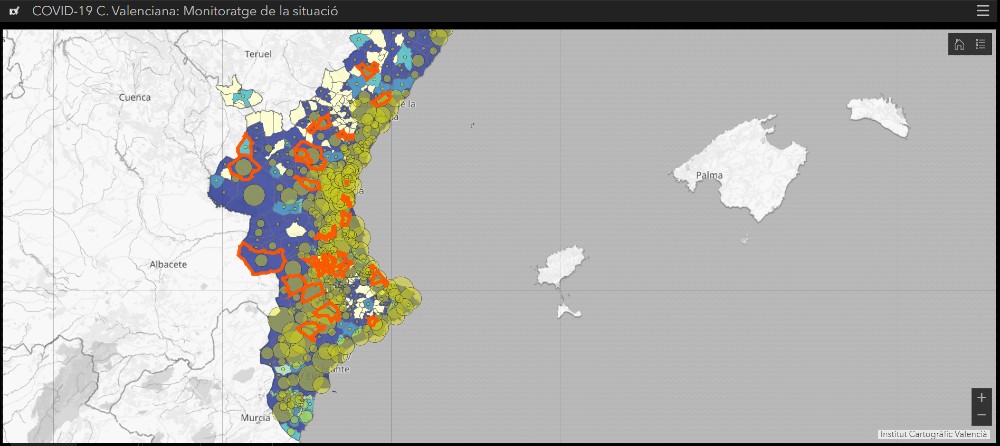 Puig called for the curfew across the region to be brought forward to 8pm, a move that has been requested by other regions in Spain but that was initially rejected by Spain's government because it didn't fall into parameters set within the current State of Alarm.
Under nationwide rules, regions have the authority to choose to set the curfew within anestablished window of 10pm to midnight and 5am to 7am.
The region of Castilla y León has unilaterally declared that the curfew begins at 8pm, and Murcia has requested the same.
READ MORE: