Question: I am a non-Spanish resident in Spain is the Covid vaccine restricted to Spanish citizens or can I still get vaccinated, and how much will it cost me?
What rights non-Spanish residents in Spain have when it comes to getting vaccinated for Covid-19 has been a big question among the readers of The Local.
People are anxious to know whether distinctions will be made between those registered within Spain's social security system and those who receive healthcare based on S1 system or the Convenio Especial. And what about those aren't in the public health system at all but pay for private health insurance?
Here's what we know so far:
Firstly, there is no limit based on citizenship. Spain's health ministry has emphasized that Spain will not make distinctions between citizens and non-citizens and has pledged to vaccinate everyone in the country, regardless of their legal status and that includes those not registered within social security system including 'illegal' immigrants and the homeless.
"All those living in Spain will be able to receive the vaccination against the virus as the campaign unrolls. Vaccination is universal, it includes all people," insisted a Health Ministry spokesman.
This has been enshrined in the vaccination strategy unveiled on December 2nd where it explicity states that when it comes to the vaccine, "each person must be considered and treated with equal dignity and rights".
"This principle prohibits prioritizing access to vaccines based solely on characteristics such as race, ethnicity, religion, sex, age, nationality, origin, disabilities, economic or social condition and others," it states.
Spain has begun a step-by-step vaccination scheme, placing elderly in care homes and those that work in them as first in line to get the injection. Health workers on the frontline of the coronavirus battle are also included in the priority group.
The vaccination programme will then be unrolled across the rest of the population divided into groups depending on risk assessment which broadly falls into age range, existing conditions etc. (more on that later).
READ ALSO:What over-70s in Spain need to know about their Covid-19 vaccines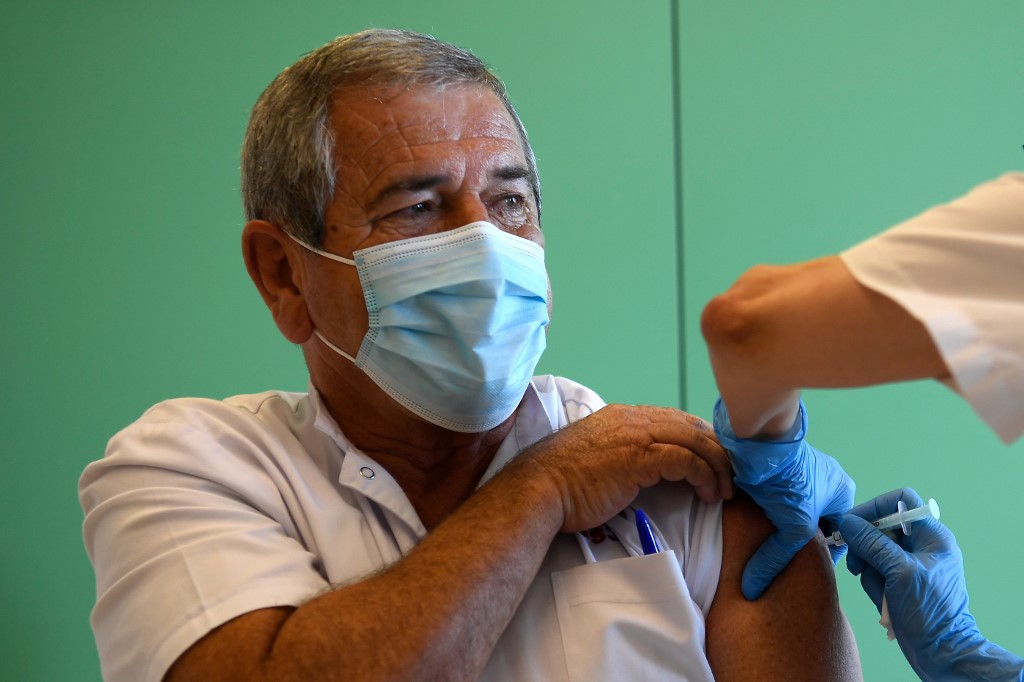 What will it cost?
Spain has pledged that the vaccine will be free to everyone, even those who don't have a health card, such as the homeless or irregular immigrants.
"The vaccines and the vaccinations are free for all Spain's population," states the Spanish government on the webpage dedicated to FAQs on the vaccination programme.
Therefore we can expect everyone working or residing in Spain to be able to get the vaccine for free, even if they aren't registered in the Spanish state health system and no priority will be given to those with health insurance or wanting to pay for it privately – something which just isn't an option under the state vaccination programme.
However, this is unlikely to include tourists or second home owners.
Should I contact my Centro de Salud?
On Spain's government website page dedicated to the vaccination programme, there is a very clear message urging people to be patient and wait to be contacted by their regional health authorities.
"The Health Service of each Autonomous Community will contact the people to be vaccinated, following the established order of prioritization.It is important not to contact the health system individually about COVID-19 vaccination until then," states the message.
How will they know to contact me?
There is no mention yet of how people will be told that it is their turn to receive the vaccine. 
Spain is still in the first stage of the programme administering vaccines to those residents and workers in care homes before moving onto healthworkers, so they haven't needed to call others up to get the vaccine.
Make sure that your documents are up to date so that you are in the system and they know how to find you. That means ensuring you are on the padron at your latest address and that you are registered with your local medical centre.
Keep checking the health authorities announcements online in the region where you are living as each regional government will be responsible for administering the programme in their community.
You can do so my clicking on this interactive map for information in each of Spain's autonomous regions: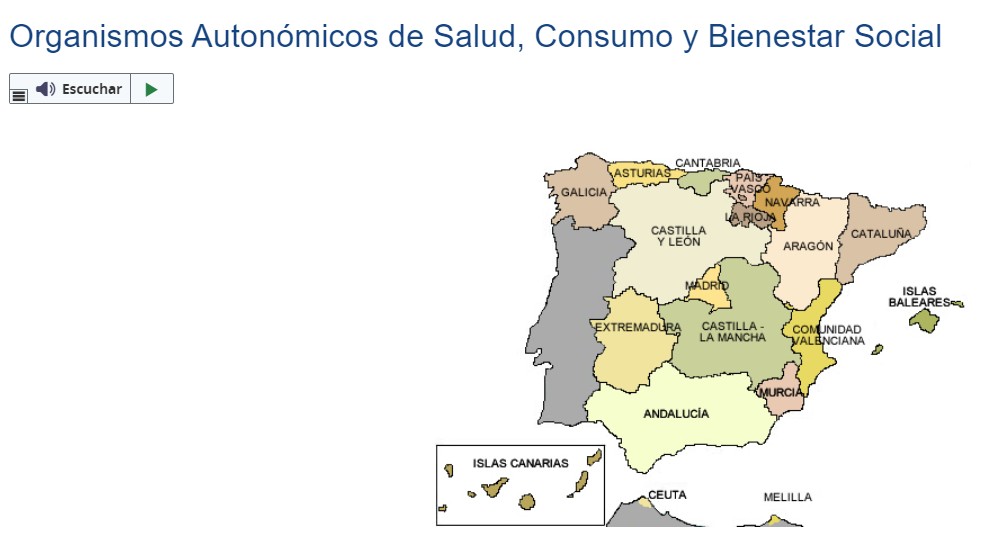 When it is your turn to get the vaccine, and we don't know yet whether these will be given at local  medical centres or specially dedicated vaccine centres, you should take all the identification possible to prove who you and where you live; passport, residency certificate, proof of address (padron or utility bills) and medical card if you have one.
 When can I get it?
Spain has a three-stage immunization plan which began at the end of December when the first vaccination (Pfizer) was given approval by the EU. The Moderna vaccine has also now arrived in Spain. Each phase will last approximately three months.
At present, Spain is in the first phase of vaccination scheme which prioritizes elderly people living in residential care homes and those that work in them, then healthcare workers and those that work on frontline battle of coronavirus.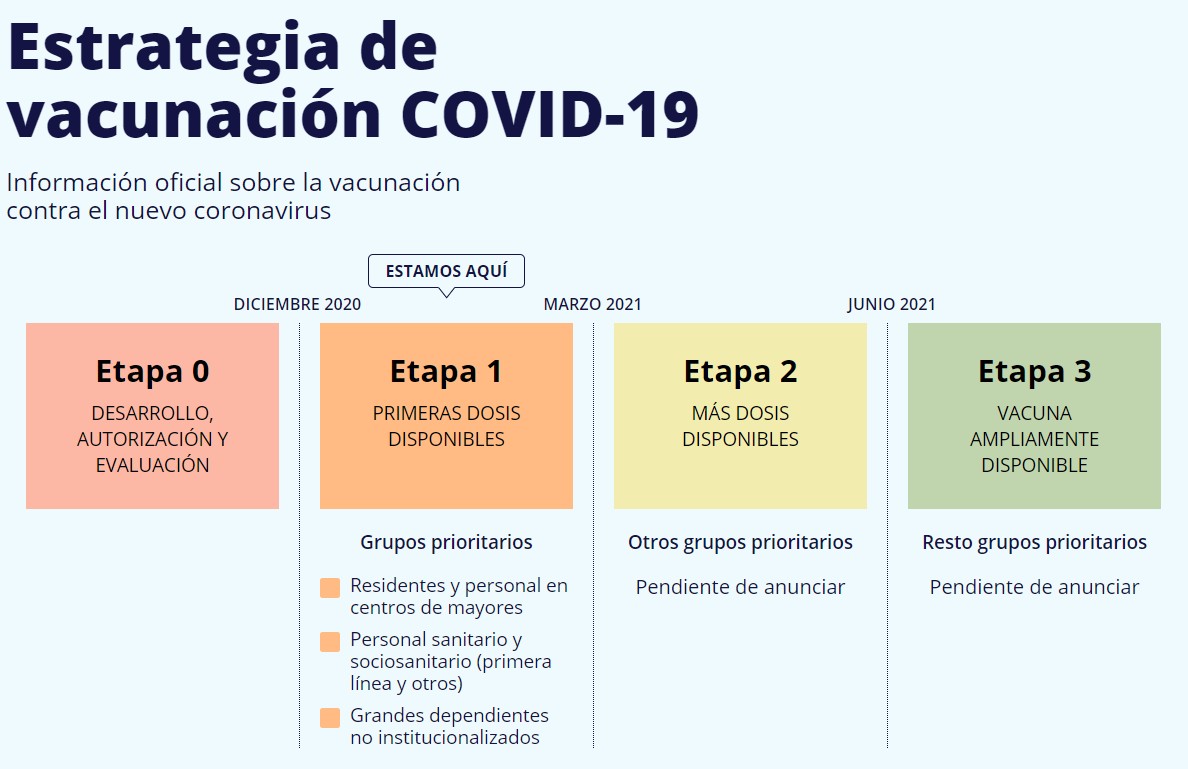 This first phase is expected to last until at least the end of February by which time 2.5 of Spain's most vulnerable will have immunity.
The second phase will roll out in Spring and the final phase will continue over the summer months with a view to Spain's entire population being covered by September.
"The groups cover the entire Spanish population. On this basis, it will be decided who will have priority in stage 2 and 3. It will be a flexible decision, which will be made by the technicians when we have more data on vaccines and their availability. The strategy is going to be updated ", Illa explained when announcing the plan in December.
The next priority group has not yet been announced.
READ MORE: