Data released by Spain's health ministry on Monday evening showed more than 61,000 new cases were reported since Friday – representing the largest weekend increase since the start of pandemic.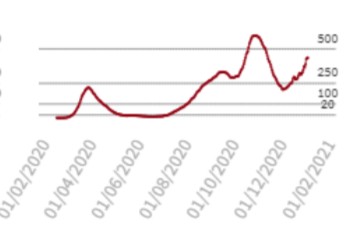 The cumulative incident rate has risen above 400 cases per 100,000 people over the past 14 days. Data from Health Ministry.
The recorded cumulative total in Spain now stands at 2,111,782.
Deaths rose by 401 over the same period to 52,275.
These graphs show the rise in infections, the number hospitalized, being treated in Intensive Care Units and the number to have died across Spain.
Fernando Simón, Spain's Health emergency coordinator, blamed the surge on the loosening of restrictions over the Christmas holidays.
"We had a better Christmas than expected and perhaps better than we should have had, and now we are looking at the result," he told a news conference.
"It's a problem of people's behaviour over Christmas.
However he played down the effect of the so-called British strain of the virus, which is more contagious and which has been detected across Spain.
He also rejected the need for a return to lockdown, insisting it was not yet necessary, echoing the message from Spain's government and Health Ministry.
Several regions have toughened up restrictions since the end of the Christmas holidays including Mallorca and Ibiza which have banned socializing between people of different households and Castilla y Leon which has closed its borders until May.
READ MORE: