Storm Filomena left much of Spain under a blanket of snow but now an Atlantic anticyclone rolling in from the northwest will cause the mercury to plummet across mountainous regions as well as the plains.
This week Spain is forecast to experience a "Scandanavian winter, where the norm in January is for there to be 0ºC during the day, which falls to -10ºC to -15ºC at night," according to José Miguel Viñas, a meteorologist for the weather website tiempo.com. 
Spain's state meteorological agency AEMET has issued weather warnings for freezing temperatures for at least 30 provinces as day time temperatures across much of the peninsula drop to minus 10ºC at night and won't exceed 5ºC by day.
This interactive map produced by AEMET shows the alerts in place for each province.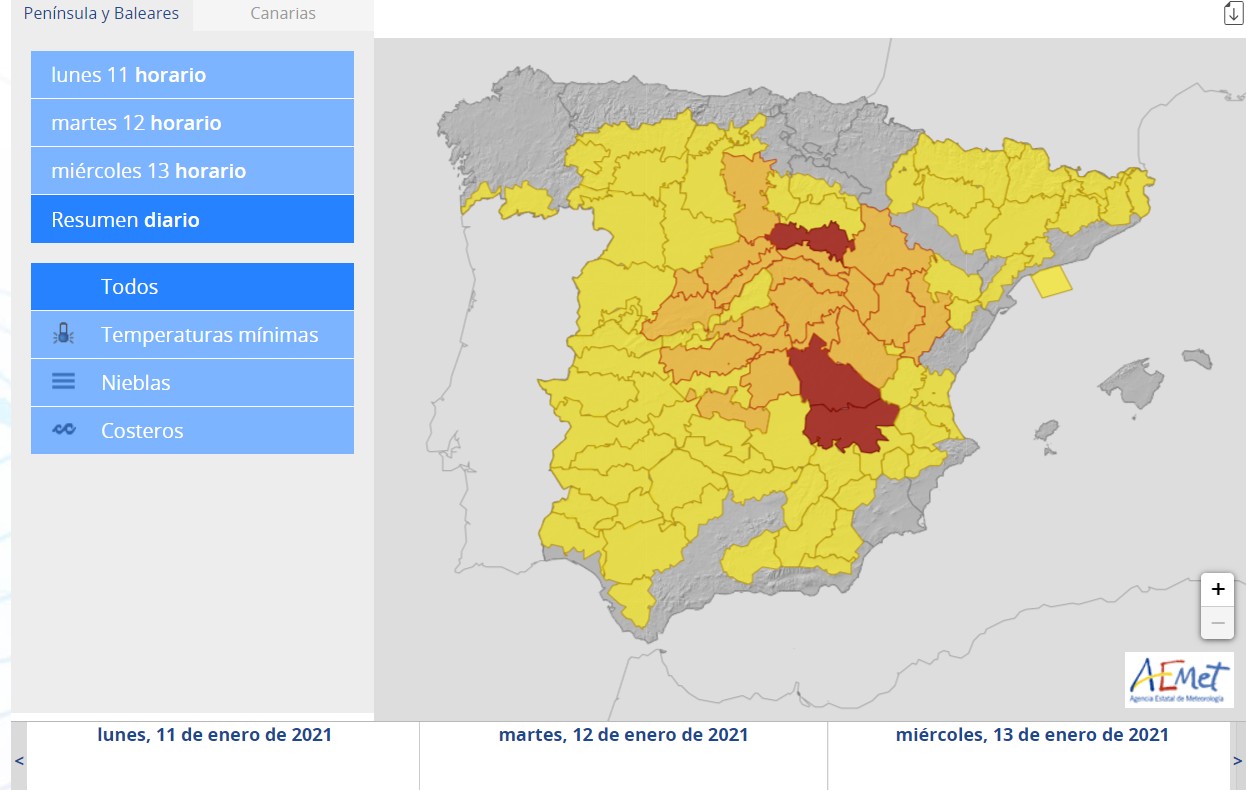 Parts of Castilla y Leon and Castilla-La Mancha – Soria, Albacete and Cuenca – have red alerts representing the most extreme risk of freezing temperatures where the mercury is predicted to drop to -16ºC, -12ºC and -14ºC respectively.
Amber alerts indicating significant risk have been issued for Huesca, Ávila, Segovia, Albacete, Ciudad Real, , Guadalajara, Toledo, Lleida and Madrid where temperatures are expected to drop between -8ºC and -10ºC.
Milder yellow alerts have been issued for Almería, Granada, Jaén, Zaragoza, Teruel, Burgos, León, Palencia, Salamanca, Soria, Zamora, Barcelona, ​​Girona, Tarragona, Cáceres, Lugo, Ourense, Murcia, Navarra, La Rioja and Valencia, for temperatures expected between -1ºC and -8ºC.
Here is a map with the maximum and minimum temperatures expected on Monday.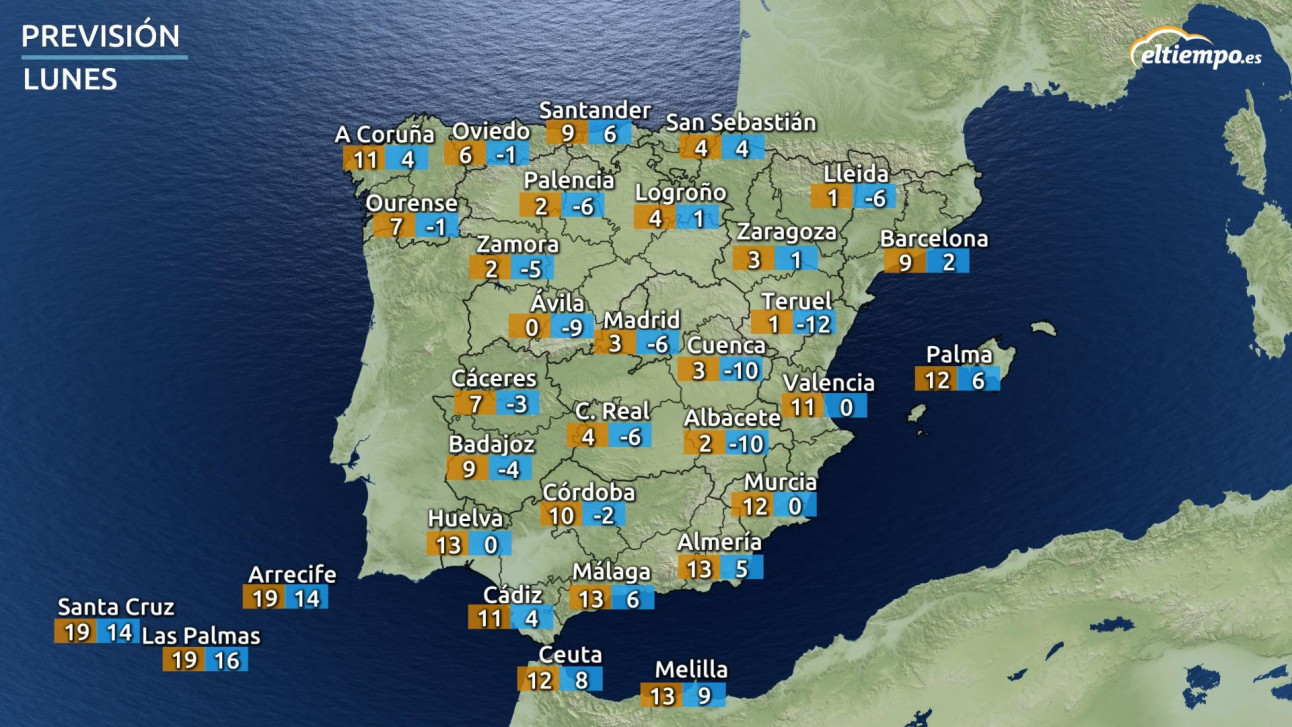 And a graph showing the evolution of minimum temperatures throuhout the week:
The cold temperatures are predicted to last until at least Thursday when the mercury is expected to rise again.
Travel in and around Madrid is expected to be difficult over the coming days as the heavy snowfall turns to ice with the region's premier urging on Madrileños to "stay at home when possible".
Authorities called on residents to "work from home and avoid using private cars" warning that normal mobility on the roads could not expected until at least the end of the week".
The snow also caused huge damage to trees across the city with many losing their branches under the weight of the snow, falling on cars and blocking streets and doorways.
City authorities have organised distribution points for residents to collect salt in order to de-ice pathways and garage entrances.
This interactive map produced by Madrid City Hall shows in realtime the streets that have been cleared of snow across the capital.
Andalucia will also see temperatures drop especially away from the coast. 
Parts of inland Valencia also have weather alerts issued although temperatures are not expected to drop below freezing in coastal areas on in the Balearic Islands.
 READ MORE: