The city's parks, plazas and tree-lined streets are filled with broken branches ranging in size from small boughs to entire trunks.
Some have crushed cars and blocked entrances while others have brought down power cables, Christmas lights and toppled signs.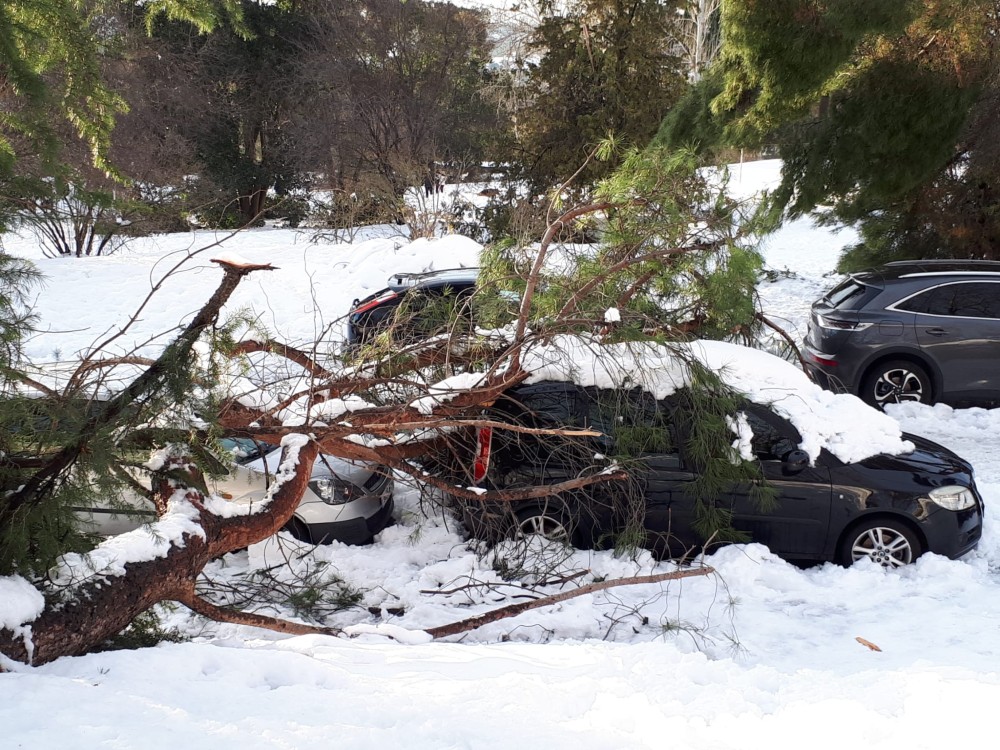 A broken pine bough atop parked cars alongside Parque Oeste. 
So why does Madrid have such a problem with its trees?
Madrid is celebrated as one of the European cities with the most trees per capita but with so many felled during the latest storm people are questioning whether they are being looked after properly. After all, do cities like Stockholm and Kiev see the same sort of damage on their streets after what is for them, a typical winter occurance?
Clearly, the storm was exceptional for Madrid – Filomena brought the heaviest snowfall in at least 50 years – and Madrid's trees are unused to bearing the weight of branches laden with heavy snow.
Madrid City Hall took the decision to close the parks in part because of the danger falling trees posed to the public and at the weekend warned people to stay inside and not wander around the city to avoid the dangers.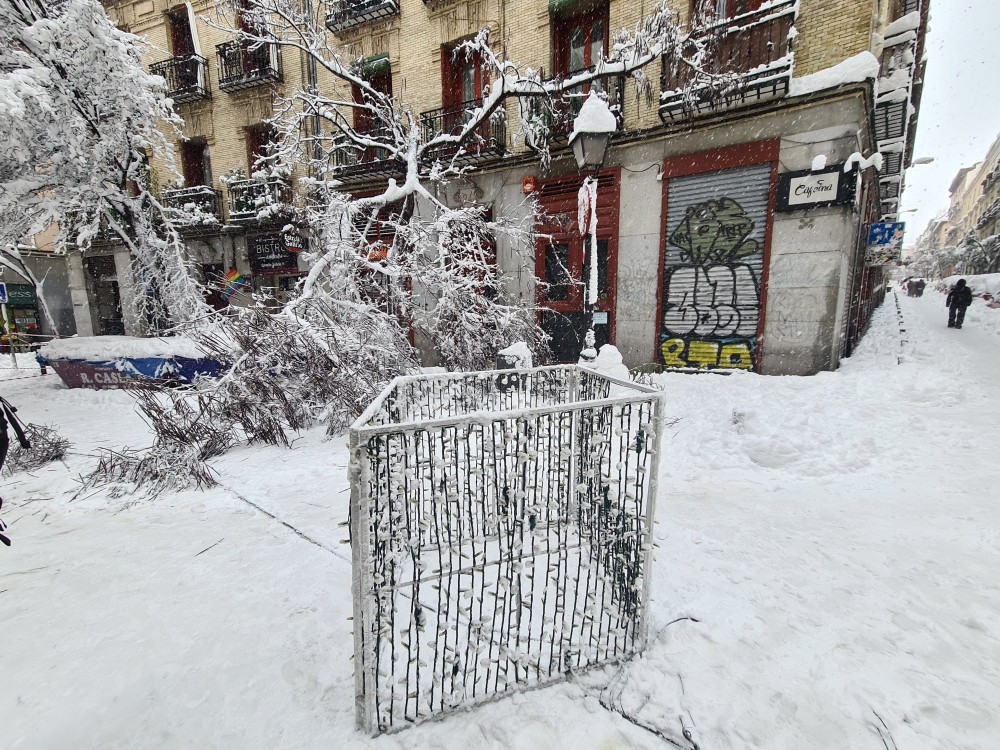 Broken trees brought down Christmas lights on Malasaña's Calle Pez. Photo: Deirdre Carney
"It could be thousands of trees that have been damaged," the Environment delegate, Borja Carabante estimated on Sunday.
By Monday authorities gave a more definitive count of around 150,000 trees of the 800,000 planted across Madrid's parks and streets that have been damaged, not including the areas of forested parkland such as the Casa de Campo.  
"It was a historic snowfall that saw excessive weight bear down on them," explained Mariano Sanchez from Madrid's Botanical Gardens.  "It's not that the trees were in a dangerous condition. "We're talking about pine trees that have stood for 60 years and never experienced a winter like this."
With Madrid experiencing a snowstorm that lasted around 30 hours dumping 50 litres of snow per square metre, according to Spain's meteorological agency Aemet.
Those trees to have been worst affected are pines, cedars and privets, the small bushy trees that line the narrower streets across the city.
These tree varieties are evergreens which means they don't lose their leaves in winter.
"Because of this the leaves provide more surface area for the snow to collect, making it more likely the weight will cause the fracture of its branches. Its structure is not used to snow", Rosa Villalba, municipal gardener and member of the organization of workers specialized in pruning and arboriculture Trepa told El Diario.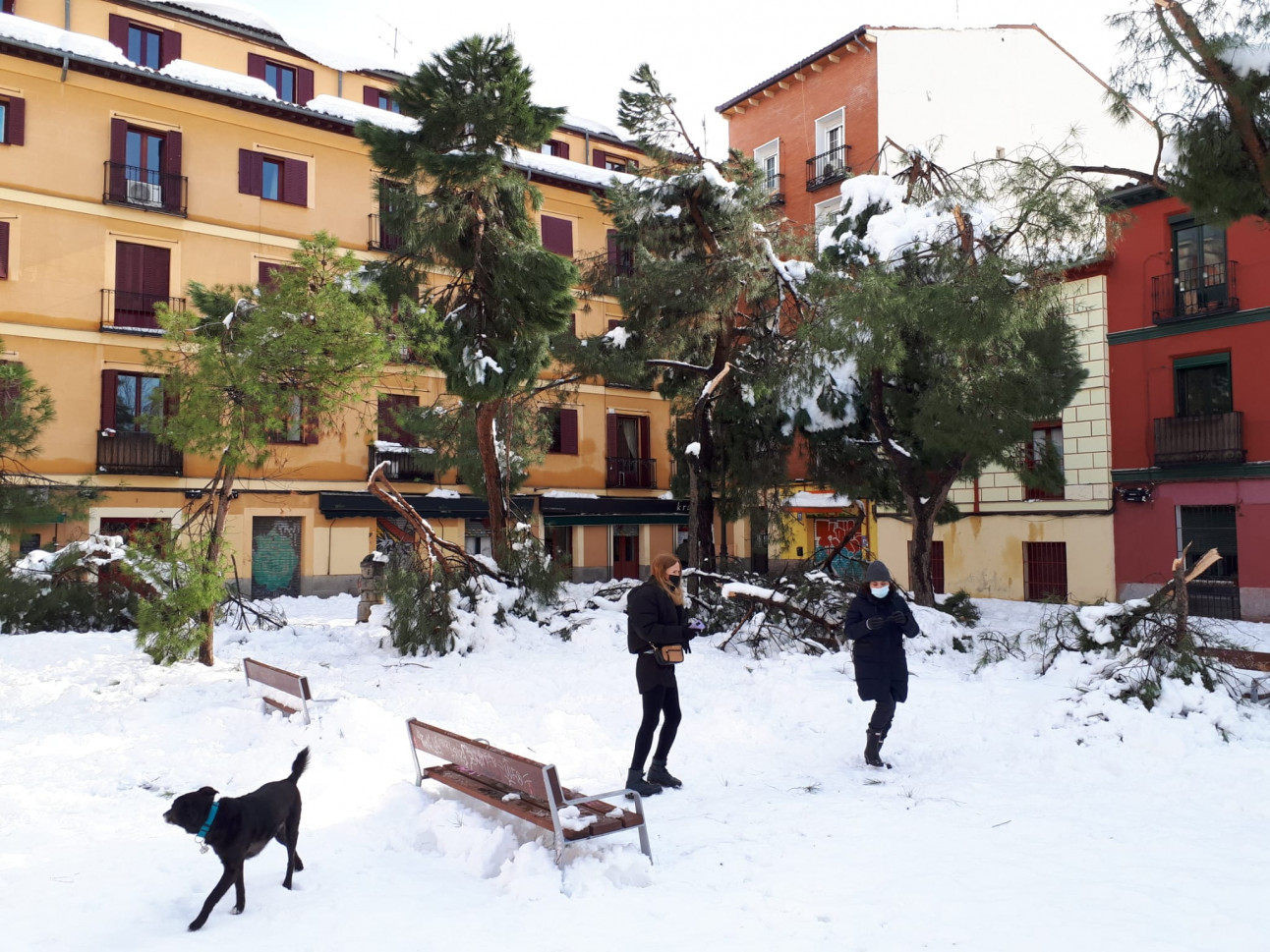 Broken trees in Plaza Comendadores. 
"Madrid's trees grow naturally to be able to support say, 5kg of snow," explains Sanchez, the tree expert at the Botanical Gardens. "But not for this. No-one was prepared for this kind of exceptional storm, not the trees and not the city council."
But he admitted that the recent snowstorm could provoke a rethink when it comes to the tree-lined avenues.
"Planting fewer perennials trees such as the privet on narrow streets might be one way to avoid risks," Sanchez said adding. "but we can't do away with trees altogether. Their presence is necessary."
Madrid authorities have designated lines to report fallen trees when they pose a danger. See tweet below: 
READ MORE: