The new restrictions will come into force at midnight on Sunday night and last until at least midnight on Sunday January 24th.
Restrictions were already in place in 18 healthcare zones and 5 municipalities across the region and will remain so for at least two weeks until January 18th.
This means that residents are confined in a total of 41 healthcare zones and 14 municpalities across the Madrid region affecting more than 1.2 million people.
Check this interactive map to discover which zones in Madrid are under new restrictions:
The number of new cases in Madrid is once again rising as this next chart shows: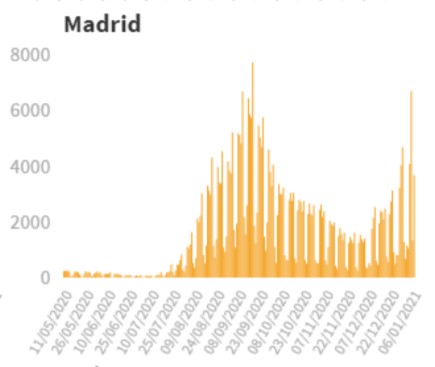 These are the zones within Madrid City limits that are under restrictions: 
? Estas son las Zonas Básicas de Salud de la ciudad de Madrid con restricciones por el COVID-19:

? Hasta las 00:00 horas del lunes 18 de enero:

? Andrés Mellado (Chamberí)
? Aravaca (Moncloa-Aravaca)
? General Moscardó (Tetuán) pic.twitter.com/YQ8hb1aDt2

— Comunidad de Madrid (@ComunidadMadrid) January 8, 2021
And these: 
? Estas son las Zonas Básicas de Salud de la región con restricciones por el COVID-19:

? Desde las 00:00 horas del lunes 11 de enero hasta las 00.00 horas del lunes 25:

? Felipe II, Alcalde Bartolomé González, Presentación Sabio, Dos de Mayo y El Soto (Móstoles) pic.twitter.com/uD9ZblgVVl

— Comunidad de Madrid (@ComunidadMadrid) January 8, 2021
Madrid authorities have been attempting to control the spread of coronavirus by isolating residents within Zonas Básicas de Salud, designated areas determined by the regional health authorities, when the cumulative incidence rate reaches dangerous levels. 
If you locate where you live and examine the data you can find out whether the cumulative incident rate of new cases over the last 14 days. 
In Spanish this is called the "Tasa de incidencia acumulada de los últimos 14 días".
If it is over 400 cases per 100,000 people then you are likely to be within the "quarantine zone".
Click on the interactive map below and hover over the area you want to check and a box will appear with all the latest epidemiological information.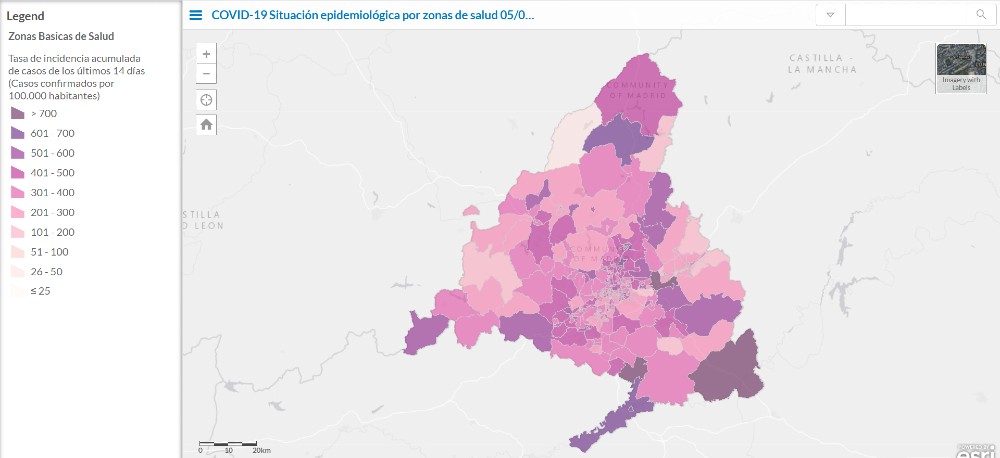 The deeper the colour purple, the higher the incidence rate.
What are the restrictions? 
If you live within one of the restricted "basic health zones"  then you will as of Monday only be allowed to leave the zone to go to work, seek medical care or take their children to school or because of a "force majuere".
All bars and restaurants will have to reduce their capacity by 50 percent, children's playgrounds will be closed.
Residents of the areas affected will be allowed to move around freely inside their zone but no one from outside will be allowed in.
As well as the measures in place in these restricted heathcare zones, Madrid has a curfew in place from midnight to 6am and meetings are limited to groups of 6.
How will the new restrictions be policed?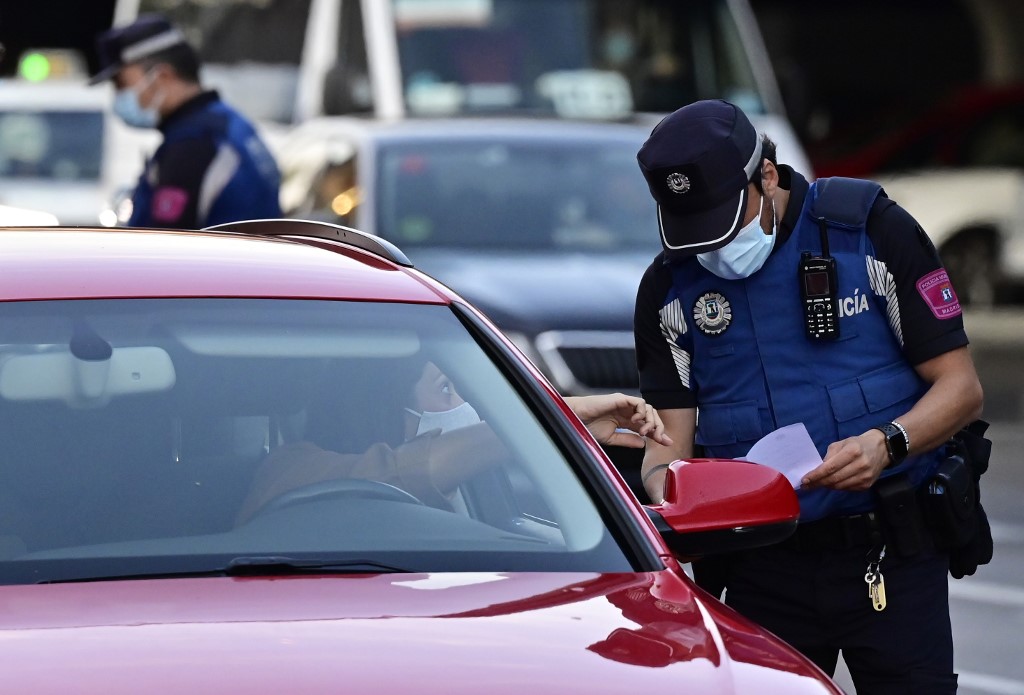 Local police officers, supported by the National Police and the Civil Guard, will be in place to ensure that residents of the affected areas respect the rules.
Anyone caught in breach of the new restrictions could face a fine of between €60 and €600 for a minor infraction and up to €600,000 for a serious one.
Madrid's director of public health, Elena Andradas said on Friday that authorities are looking are ways to make the limits of confined zones clearer perhaps with markers on the street.
New rules
Basically, you must stay within your restricted zone unless you have to travel outside it for work, study, or take your children to school. You can also leave if you have to visit dependents or if you need to seek medical attention or attend a legal or administrative appointment.
Shops and restaurants will remain open but at half the capacity that they are normally allowed and they must shut by midnight allowing last people in by 11pm..
All social groups must not exceed six people and that is across the whole of the region of Madrid,  not just the restricted areas.
Plus the within restricted zones parks and public spaces such as childrens playgrounds are closed.
Cinemas, theatres, libraries and sports centres will remain open but with a limited capacity.
Home delivery is allowed.
Permits
People who need to exit or enter a restricted zone must carry a form which they can download from the internet and fill out in order to justify their trip. These must be carried at all times and shown if required when stopped by police at the checkpoints.
They will have to fill out with ID number, address, place of work and reason for movement and must be signed by one's employer. 
They can be downloaded HERE.