On December 22, 2020 Spain banned travellers flying in from the UK except nationals and those who are resident in Spain, due to fears over the new Covid-19 strain that has spread rapidly in Britain.
This travel ban has now been extended to January 19. 
The situation, combined with the fact that Brexit has now become a reality, has left many travellers, airline staff and indeed Spanish authorities confused.
Spain recently moved to clear up the confusion for returning British residents after it emerged that several had been denied boarding at UK airports amid confusion over what residency documents they needed to prove they lived in Spain.
Here's a quick look at what you need to proof you are a resident in Spain just in case you run into problems, and also what won't work as proof.
TIE card
You can prove residency in Spain by presenting your TIE card (the new biometric cards issued to British residents in Spain since July).
These are the post-Brexit residency cards that show that British residents in Spain, living in the country before the end of 2020 were covered by the Brexit Withdrawal Agreement. 
However not all Britons living in Spain have their TIE card because appointments have been hard to come by in certain areas. Many have been waiting for months.
Also, the Spanish authorities have said many times that it isn't necessary for those already living in Spain to change their green residency 'Certificado de Registro de Ciudadano de Union Europea' (commonly referred to as a NIE) for a TIE. 
Green certificate  
The 'Certificado de Registro de Ciudadano de Union Europea' (although many refer to it as a NIE) is a green residency certificate, either A4 size or credit card size, which features your NIE (Numero de Identidad Extranjero) number can also be used. 
Britons carrying the green residency certificate have been wrongly refused entry but Spain has since made it clear the cards are valid. However whether that information gets to all immigration officials on the ground is another question.
The Spanish authorities have created a downloadable pdf, which states which documents are valid for proof of residency and shows a picture of each. Travellers are being advised to print a copy (see below) and take this along with them to the airport to show airlines in the case of being denied boarding.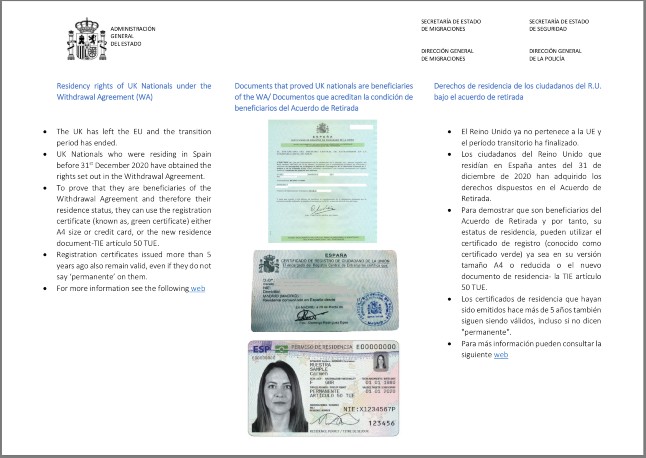 This is to show the airlines that you have the correct documents and which are accepted. Along with your certificate, you must show a valid passport when you travel.
'Proof of application'
Those who do not have the green residency certificates (NIE), but have applied for and are still waiting for their new TIE cards, are also allowed to travel to Spain and have been given a seven-day grace period until January 10 to be able to get it.
They just need to print off their proof of application, which they will get after they've handed in their documents to get the TIE.
The Spanish authorities said in statement on January 3rd: "We can also confirm that those UK nationals who can prove that they have started their registration process, but who do not yet have their new TIE card, should be allowed to board flights to return to Spain.
"The Government of Spain will put in place this measure for a grace period of seven days from January 4 2021. The document 'resguardo de solicitud o renovación de tarjeta de extranjero' can be considered as acceptable evidence'."
This is normally sent out after you have booked an appointment along with a reference number but there was some confusion among Britons about how to get hold of this document.
But what can't be used?
The British government website also warns that "padron certificates, utility bills and property deeds will not be accepted by Spanish authorities as proof of residency."