Travel restrictions pose a huge number of issues – not least how and when it will be possible to see family overseas. But when it comes to tourism, those who live in Spain find themselves at a distinct advantage. With its kilometres of coast, diverse cities, and mountainous areas to explore, Spain leaves you spoilt for choice.
One option often overlooked by holidaymakers is Murcia. The lesser known coastal cousin of nearby Alicante and Almeria, this south-Eastern region is rich in fresh food and sandy golden beaches, and is an inexpensive holiday destination well worth of consideration.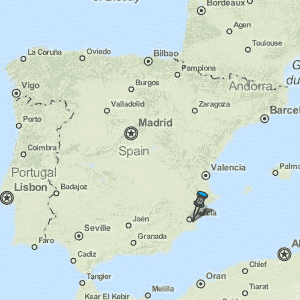 Eleanor Rosenbach, a Madrid resident who often spends her holidays in Murcia, shares her love of the region with The Local readers: Here are her five reasons why Murcia should be top of your list for holidays this summer.
Sun, sun, sun
If you're a sun worshipper, look no further.
Rain in Murcia is as rare as three weeks of unbroken sunshine in the UK. Though in winter you'll see residents eagerly rock out their furs and quilted jackets on the few days when temperatures descend below 8C, in summer sunshine is practically guaranteed.
Be warned, though – access to water is important in the Murcian summer. Temperatures regularly top 40 degrees, and the inland capital city turns in to a ghost town in August as residents flock to the relative cool of the beaches. For more than a few days in the region, proximity to agua is a must.
Comidas, meriendas y cenas

Murcia's famous marineras is the ideal accompaniment to a cold beer, or a glass of wine. Photo: Lilliana Fuchs / Flickr
 
Murcia is the 'huerta de Europa', producing vast quantities of fresh fruit and veg consumed throughout Spain and beyond. The famous Mediterranean diet – which when purveying tapas options in Madrid can feel elusive – is in full swing in Murcia.
Fresh fish, seafood and vegetable dishes abound, and after a few days in the region you're likely to find yourself wondering why its gastronomy doesn't have wider international recognition.
A must-try are marineras – a dish composed of a savory Murcian rosquilla topped with ensaladilla rusa (a dish of which the region is undisputed King) and an anchovy. A Murcian speciality, it should ideally be enjoyed with an ice cold cerveza.
Variety is the spice of life

Cabo de Palos is a snorkeler's paradise. Enrique Domingo / Flickr
 
One of the region's primary attractions is its beaches  – from the expanses of golden sand towards the border with Alicante to the secluded bays flanked by rocky outcrops in Águilas, from the calm shores of the warm-watered Mar Menor to the snorkelers' paradise of Cartagena and Cabo de Palos.
For fans of windsailing, kayaking and other watersports there's no shortage of options, and the region boasts one of Europe's best diving sites. But it has more to offer – Murcia city is a vibrant university town packed with tascas and terrazas serving inexpensive regional delicacies.
Cartagena is an historic gem, boasting well preserved Roman ruins, wide tree lined streets and an elegant port. Towards the north of the region, hilltop towns like Caravaca de la Cruz offer spectacular views and a wealth of archaeological, historical and religious interest sites to visit. For those who favour golf as an afternoon activity, the region's 15 golf courses will leave you spoilt for choice.
Culture, and its remains

Cartagena with its Roman amphitheatre. Photo: Pablo Cabezos /Flickr
In Roman times, Cartagena was the jewel of the Iberian Peninsula. Though the city's subsequent conquests and changes have remoulded it, relics of the time remain in the forum and the spectacular amphitheatre whose restoration at the close of last century marries careful preservation of the ruins with a stunning and respectful modern architecture. 
The wealth of artifacts found during the restoration can be seen in the nearby amphitheatre museum. Cartagena's rich seam of modernist buildings rising from the port into the centre of the town – themselves a product of the mining boom in the 19th century – are also well worth a look. Murcia city has less to offer by way of archaeological sites, but its imposing baroque cathedral and historic casino offer more than enough to keep you entertained for a day trip.
The price

Photo: Roda Gold Info / Flickr
If the rest wasn't persuasive enough, worth remembering is that Murcia is relatively inexpensive, particularly compared to other more well-trodden tourist zones of the eastern coast. Eating out – even in the most chic of areas – won't set you back too much. There's also an abundance of accommodation options with prices to suit all budgets in towns and beaches, as well as golf courses and resorts. Should travel bans prohibit the use of northern Europeans using their holiday homes in the summer, there will likely be an even greater wealth of sleeping options and at great prices. 
If you believe your area of Spain deserves more recognition, drop us a line and tell us why! 
READ MORE: